Híradástechnika PTK-1096
Datasheet legend

Ab/c: Fractions calculation
AC: Alternating current
BaseN: Number base calculations
Card: Magnetic card storage
Cmem: Continuous memory
Cond: Conditional execution
Const: Scientific constants
Cplx: Complex number arithmetic
DC: Direct current
Eqlib: Equation library
Exp: Exponential/logarithmic functions
Fin: Financial functions
Grph: Graphing capability
Hyp: Hyperbolic functions
Ind: Indirect addressing
Intg: Numerical integration
Jump: Unconditional jump (GOTO)
Lbl: Program labels
LCD: Liquid Crystal Display
LED: Light-Emitting Diode
Li-ion: Lithium-ion rechargeable battery
Lreg: Linear regression (2-variable statistics)
mA: Milliamperes of current
Mtrx: Matrix support
NiCd: Nickel-Cadmium rechargeable battery
NiMH: Nickel-metal-hydrite rechargeable battery
Prnt: Printer
RTC: Real-time clock
Sdev: Standard deviation (1-variable statistics)
Solv: Equation solver
Subr: Subroutine call capability
Symb: Symbolic computing
Tape: Magnetic tape storage
Trig: Trigonometric functions
Units: Unit conversions
VAC: Volts AC
VDC: Volts DC


| | | | |
| --- | --- | --- | --- |
| Years of production: | | Display type: | Numeric display |
| New price: | | Display color: | Red |
| | | Display technology: | Light-emitting diode |
| Size: | 6½"×3"×1½" | Display size: | 10(8+2) digits |
| Weight: | 12 oz | | |
| | | Entry method: | Algebraic with precedence |
| Batteries: | 3×"AA" NiCd | Advanced functions: | Trig Exp Lreg Card |
| External power: | TI AC-9131 (3.3VAC 500mA) | Memory functions: | +/-/×/÷ |
| I/O: | | | |
| | | Programming model: | Partially merged keystroke |
| Precision: | 13 digits | Program functions: | Jump Cond Subr Lbl Ind |
| Memories: | 100(0) numbers | Program display: | Keycode display |
| Program memory: | 960 program steps | Program editing: | Insert/delete capability |
| Chipset: | Texas Instruments TI-59 | Forensic result: | |
Híradástechnika PTK-1096
If it looks like a duck, if it quacks like a duck... it still isn't a duck! At least not in this case. This calculator looks like a TI-59 from Texas Instruments, but it is in fact an OEM labelled version, manufactured by Híradástechnika in Hungary in the early 1980s.
Of course it really is a duck after all. Although obvious Texas Instruments markings were removed by the manufacturer, you can still find the TI emblem all over inside, on the label of the Solid State Library module, and, well, right underneath the Hungarian model number!
In fact, this Hungarian model number was painted over the original markings that said TI Programmable 59. And, in typical East Bloc fashion, owners too embarrassed that they don't actually own a "real" Texas Instruments product often removed this overpaint. And when they didn't, the paint peeled off anyway since it wasn't very resistant to being rubbed by human fingers.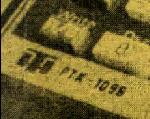 All this of course is just an explanation for a big admission that I have to make right here: although the calculator in my hands is a genuine PTK-1096, its original Hungarian labeling is long gone: it says TI Programmable 59 in big, friendly letters. Which is why I cheated: for the photo on this page, I reproduced the label by hand using a picture of the calculator that was published on the front page of the Hungarian-language manual.
In addition to the PTK-1096, Híradástechnika also produced an OEM version of the PC-100A printer cradle, relabelled KA-100. Although this calculator-printer combination was far too expensive for the average mortal, it was still significantly cheaper than imported TI models, which made this unit popular at many engineering firms, for instance. My own first encounter occurred at just such a firm, the research institute of Hungary's air traffic and airports authority, where I worked on some simulation applications for the Soviet-made TU-154 passenger jet.
With the Master Library module, the PTK-1096 had a full compliment of complex number functions. This is what prompted me to write a complex implementation of the Gamma function, my preferred demonstration example for programmable calculators. The program shown here is identical to that shown on my TI-59 page: it calculates the complex Gamma function for any complex argument, entered using the x-t key. For instance, to calculate the Gamma function of 1+3i, you'd type 1 x-t 3 A. After a somewhat lengthy computation, the calculator will display the real part of the result (0.019292759); the imaginary part (.0338960105) can be retrieved using x-t again. To calculate the Gamma function of a real number such as 5, type 5 x-t 0 A.
Note that this program requires the presence of the Master Library 1 module in the calculator's Solid State Library slot. If the module is not present, or if another module is inserted, the program will not function correctly.
000 76	LBL
001 11	A
002 42	STO
003 04	04
004 32	x-t
005 42	STO
006 03	03
007 01	1
008 42	STO
009 01	01
010 00	0
011 42	STO
012 02	02
013 29	CP
014 76	LBL
015 32	x-t
016 43	RCL
017 03	03
018 77	x>=t
019 61	GTO
020 36	PGM
021 04	04
022 13	C
023 01	1
024 44	SUM
025 03	03
026 61	GTO
027 32	x-t
028 76	LBL
029 61	GTO
030 43	RCL
031 01	01
032 42	STO
033 05	05
034 43	RCL
035 02	02
036 42	STO
037 06	06
038 02	2
039 65	×
040 89	π
041 95	=
042 34	√
043 42	STO
044 01	01
045 00	0
046 42	STO
047 02	02
048 36	PGM
049 04	04
050 13	C
051 93	.
052 08	8
053 06	6
054 07	7
055 06	6
056 00	0
057 04	4
058 03	3
059 04	4
060 02	2
061 04	4
062 85	+
063 08	8
064 03	3
065 95	=
066 44	SUM
067 01	01
068 36	PGM
069 04	04
070 13	C
071 93	.
072 09	9
073 02	2
074 06	6
075 04	4
076 09	9
077 04	4
078 07	7
079 09	9
080 85	+
081 01	1
082 01	1
083 06	6
084 08	8
085 95	=
086 44	SUM
087 01	01
088 36	PGM
089 04	04
090 13	C
091 93	.
092 02	2
093 04	4
094 05	5
095 02	2
096 09	9
097 07	7
098 00	0
099 05	5
100 85	+
101 08	8
102 06	6
103 08	8
104 07	7
105 95	=
106 44	SUM
107 01	01
108 36	PGM
109 04	04
110 13	C
111 93	.
112 02	2
113 09	9
114 05	5
115 01	1
116 04	4
117 07	7
118 07	7
119 85	+
120 03	3
121 06	6
122 03	3
123 00	0
124 08	8
125 95	=
126 44	SUM
127 01	01
128 36	PGM
129 04	04
130 13	C
131 93	.
132 06	6
133 02	2
134 07	7
135 08	8
136 09	9
137 05	5
138 02	2
139 85	+
140 08	8
141 00	0
142 09	9
143 01	1
144 06	6
145 85	+
146 53	(
147 93	.
148 06	6
149 03	3
150 03	3
151 01	1
152 05	5
153 03	3
154 85	+
155 07	7
156 05	5
157 01	1
158 02	2
159 02	2
160 54	)
161 48	EXC
162 01	01
163 95	=
164 42	STO
165 07	07
166 00	0
167 48	EXC
168 02	02
169 42	STO
170 08	08
171 36	PGM
172 04	04
173 18	C'
174 43	RCL
175 07	07
176 44	SUM
177 01	01
178 43	RCL
179 08	08
180 44	SUM
181 02	02
182 01	1
183 44	SUM
184 03	03
185 94	+/-
186 49	PRD
187 04	04
188 36	PGM
189 04	04
190 18	C'
191 01	1
192 44	SUM
193 03	03
194 94	+/-
195 49	PRD
196 04	04
197 36	PGM
198 04	04
199 18	C'
200 01	1
201 44	SUM
202 03	03
203 94	+/-
204 49	PRD
205 04	04
206 36	PGM
207 04	04
208 18	C'
209 01	1
210 44	SUM
211 03	03
212 94	+/-
213 49	PRD
214 04	04
215 36	PGM
216 04	04
217 18	C'
218 01	1
219 44	SUM
220 03	03
221 94	+/-
222 49	PRD
223 04	04
224 36	PGM
225 04	04
226 18	C'
227 01	1
228 44	SUM
229 03	03
230 94	+/-
231 49	PRD
232 04	04
233 36	PGM
234 04	04
235 18	C'
236 36	PGM
237 05	05
238 16	A'
239 43	RCL
240 03	03
241 75	-
242 93	.
243 05	5
244 95	=
245 48	EXC
246 01	01
247 42	STO
248 07	07
249 43	RCL
250 04	04
251 94	+/-
252 42	STO
253 04	04
254 48	EXC
255 02	02
256 42	STO
257 08	08
258 36	PGM
259 05	05
260 16	A'
261 05	5
262 93	.
263 05	5
264 22	INV
265 44	SUM
266 03	03
267 36	PGM
268 04	04
269 13	C
270 43	RCL
271 08	08
272 75	-
273 43	RCL
274 04	04
275 95	=
276 44	SUM
277 02	02
278 43	RCL
279 07	07
280 75	-
281 43	RCL
282 03	03
283 75	-
284 05	5
285 95	=
286 44	SUM
287 01	01
288 36	PGM
289 05	05
290 17	B'
291 43	RCL
292 05	05
293 42	STO
294 03	03
295 43	RCL
296 06	06
297 42	STO
298 04	04
299 36	PGM
300 04	04
301 18	C'
302 43	RCL
303 02	02
304 32	x-t
305 43	RCL
306 01	01
307 92	RTN
---