Calculators and other items for sale
ROYAL Digital 5-T four-function calculator
Identifier
Description
Price
1-2025
ROYAL Digital 5-T four-function calculator
USD19.95
ROYAL Digital 5-T four-function calculator, in good cosmetic and working condition. Mid-1970s vintage.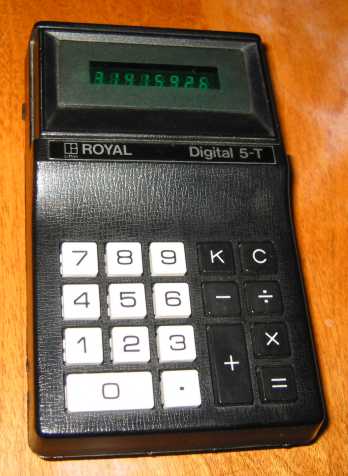 Externally, the calculator looks almost new: no noticeable dirt, contamination, or discoloration. All keys work, all display segments are bright and clear.
The battery compartment shows signs of corrosion. Several battery contacts are contaminated, and it took an effort to clean them to the extent that batteries made good enough contact for the machine to function. It may be necessary to further clean the contacts when new batteries are inserted.
The battery compartment door is present and accounted for.
The back of the calculator has the name and address of the original owner scratched into it.
No accessories (no manual, charger, or case.)
---
| | | |
| --- | --- | --- |
| | | This Web page copyright ©2005-2020 Viktor T. Toth |